1 Korea, 2 China, 3 China, 4 China, 5 China, 6 Hong Kong, 7 Thailand, 8 India, 9 Africa, 10 Egypt, 11 Spain, Germany and The Netherlands
Tee-Time, Anyone?

What a trip it's been so far. Starting Thursday, April 14th in Seattle at noon and concluded in Portland, Oregon, that evening, having dinner at McGrath's Seafood House in Beaverton with Jim and Elaine Thomas, Rena and Joe Chiu, Roger Nelson and Marlia Dunsmore. Yes, another mini-reunion has taken place on the west coast. We talked and talked until they finally kicked us out. Marlia spent the evening with Rena and Joe while I stayed at Jim and Elaine's in Lake Oswego. And yes, I have my hat and jacket with me on the trip.

The Friday afternoon drive to Vancouver for the flight to Seoul, Korea was lengthened considerably by a massive Friday afternoon traffic jam between Seattle and Everett, WA, a roughly 30 mile drive that took almost 2 hours. I dropped Marlia off at Mt. Vernon with about 10 minutes to spare for her to get the ride back to Orcas, Island. I made another stop in Lynden, WA to visit cousins and other family members. We hadn't seen each other in over 50 years. An especially wonderful chance to get reacquainted.

The circle-route flight to Seoul skirts the Canadian Pacific coastline, crosses over the Bering Sea then continues southerly along the coast of the eastern-most remote areas of Russia. Ice and very cold-looking water were clearly visible from 38,000 feet. I selected a window seat to watch the scenery change and take pictures.

Welcome to Inchon Airport after nearly 13 hours in flight. Leave on Saturday afternoon and arrive late Sunday afternoon. Incheon Airport was built on reclaimed land among several islands. No problems clearing customs and finding my baggage. Outside the baggage area I saw a big sign with my name; the driver welcomed me to Korea and off we went to the hotel in central Seoul. We covered the approx. 40 km (24 miles) distance in a little over one hour; there was very heavy traffic as we approached center city. The terrain along the way reminded me of parts of North and South Carolina, gently rolling hills covered with pine trees. The highway to Seoul goes over tidal flats and several rivers. Worming his way through heavy traffic was no problem for the driver. Central Seoul is very hilly; the roads intersect and branch off in many directions. Numerous tunnels help keep traffic flowing from one section town to another.

Western-style hotels are very expensive, but modern in every way, including wireless internet connection, for a fee, of course. There was a large gathering of Australian Korean War Veterans. Many were wearing medals earned during their tour of duty. They had a huge banquet Tuesday night attended by many dignitaries, including the Australian ambassador. His limo was parked just outside the front door of the hotel.

I'm sure that there are days when the air is clear. During my stay, a constant haze was settled over city. I'm sure that there are efforts underway to improve the conditions.

Street vendors dispense any and all types of merchandise from little kiosks, books, watches, juice and soda pop, food, hot or cold meals, apparel, computer devises, CDs, you name it, you can find it. I fried my current-converter transformer; I bought a 220 volt battery charger and a CD of Korean music.

Byeong Kil Jeon ("Call me Kris," he said) was my contact at CTC Clover Trading Company; he made the arrangements for two customer visits, one at the steel mill about 1-1/2 hours south of Seoul and the other at the steel mill's central purchasing department across the Hangang River in the Seoul's newer, less hilly business district Gangnam-Gu. Judging from the more logical arrangement of the streets and size and style of office buildings, this area of Seoul was built-up in recent time. Navigating the jammed streets during business hours is typical of any large metropolitan area of the US. Many people get around by private auto, but taxis, bicycles, and scooters add to the congestion. There are 10 subway lines, identified using different colors, connecting central Seoul with the outlying suburbs. Bridges over the river for the subways are painted the same color.

Kris made arrangements for dinner on Tuesday night at a typical, sit-on-the-floor restaurant. A small grill in the middle of the table was filled with glowing charcoal; a "grill" was placed over the charcoal. Place you selection of meat and veggies on the grill, sauté them with sauces while cooling and take them off when done. Dip in the sauce, using chop sticks of course, and pop into your mouth. Lots of garlic cloves mixed in with your selections. Koreans believe in liberal use of garlic "for your health."

Wednesday was travel day to China. I took the airport bus from the hotel, arriving at Incheon airport 2 hours before flight time. Check-in, clearing customs, and security check took all of about 15 minutes. Until boarding time, I fired-up the lap-top to check email using the wireless service in the waiting lounge and had a bite to eat.

One final thing for the Class of '61 golfers: Playing a round of golf is very, very expensive and reserved almost exclusively for well-to-do business men. There are, however, numerous driving ranges. Not your typical US-style driving range. These are 5- and 6-tiered buildings with 30 to 40 tees on each tier. Huge nets are hung along the sides and at the end of the driving range, about 150 yards from the tees. You can only imagine how far your ball would go straight down the center of the fairway, or how far off to the right or left the ball would slice or fade. Tee-time, anyone?



The view looking east out the window of my room on the 16th floor of the Hotel Sofitel Ambassador. There is a golf driving range in the center of the picture along the ridge-line of the hill.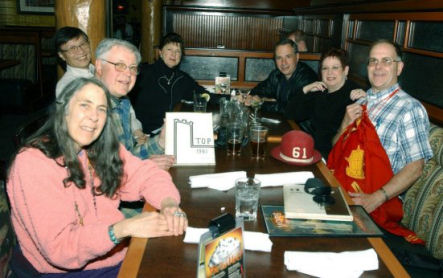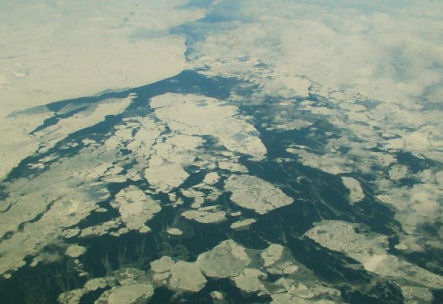 Crossing over the Bearing sea at 38,000 feet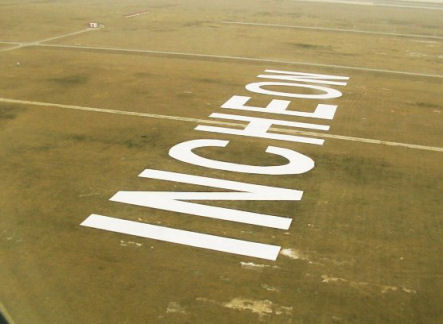 Arrival at Incheon Airport after the 13 hour flight


The entrance to one of many tunnels through the hills of Seoul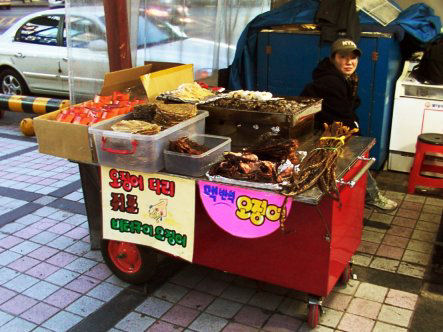 A street vendor: Anyone for smoked squid or octopus?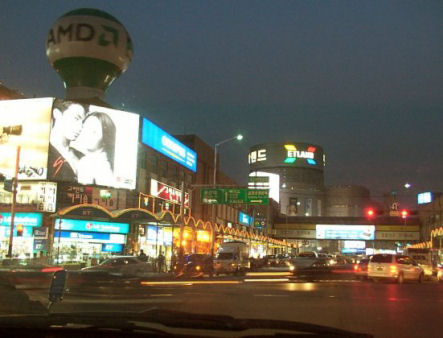 Night lights