"Bing Beju"

At airports, push carts are provided at no charge when you arrive at the airport for departure and in the baggage claim areas when you arrive. Load your suitcases and push your way to your heart's content. There were a few charlatans waiting for unsuspecting travelers when we arrived. With push carts in hand, they demanded RMB (hard $) for carts. We were not about to be "taken" by those con artists. Loading the cart and in determined voices telling them to move on, they ran off to find other carts and try again.

While waiting our turn on the Beijing runway, we watched planes disappear into the haze on take off; a constant reminder of work yet to be done. We too, quickly disappeared into the sky. Upon arrival in Yantai 1 hour later, we were met by the driver who would take us to Longkou, home of Nanshan Aluminum Company, our next stop on this year's China odyssey.

The drive took us through beautiful rolling hillsides of neat and orderly fields filled with apple trees in bloom; white and pink blossoms. Yantai is famous for apples, and it was the start of the growing season. A little over one hour later we entered Longkou
through the "ancient" city gate. A left turn up a hill took us to the Nanshan Hotel, one of several build when old, rundown homes were torn down, the hilltop leveled and replaced by three modern hotels, an apartment complex, a convention center, lake and auditorium and lots of open space for walking.

We walked over to the international hotel to meet others for light conversation and a few Bing Beju. Along the way, we passed a massive water Lilly statue made of sculptured steel. Ms. Sun advised that the water Lilly is religious symbol for purity, cleanliness and peace. Once back at the Nanchan Hotel, I joined Ms. Sun and her colleagues for dinner in the huge dining room. We selected chicken and noodle soup that was quickly consumed. It was off to bed and up early for the morning at the mill.

Breakfast was included with the room fee. On my way to the dining room, a friendly hotel employee dressed in blue stopped and explained that it was her job to help foreigners. This included explaining services at the hotel and providing directions to cab drivers, to escorting guests to the dining room and waiting at the table to help with any little desire. I said thank you several times. She stayed and laughed. Thank you again. More smiles and laughing. I took a picture of her and several coworkers.

The windows of the hotel on either side of the main entrance were painted with scenes showing brightly colored roosters and fireworks exploding. The previous day, there was a large wedding reception; perhaps these were from that celebration. Then again, maybe not. Spring is a season for fireworks. Whatever the reason, the windows were pretty.

Our work completed at the mill, we were back at the hotel by early afternoon, but not before stopping at the local office of the Bank of China to try to cash travelers checks. Our luck ran out. Running out of cash was becoming a common occurrence. While at the mill, my pants snagged on a piece of steel; I ended up with a large tear that was promptly repaired at the hotel. Back in the room, reports were completed, email checked, and hotel workers fixed a window screen in my room. There was a brisk wind blowing and by mid-afternoon the haze hanging over the countryside was totally gone. You could see for miles. Late in the afternoon, Ms. Sun and I again walked to the international hotel, this time to purchase tickets for Monday morning's flight for our final plant visit in northern China. When paid by credit card, airlines charge a small service fee; they'd rather have the cash in hand.

Hotels in China provide a full line of amenities for convenience of the guests and slippers for use in the room. The Nanshan Hotel was no different. The vanity tray included shampoo, foam bath, a comb, soap, tooth brush, vanity pack (sewing kit,) shower pack and razor.

The wind died down overnight; it was again hazy and foggy for the early morning drive back to the Yantai airport. It reminded us of the drive to Tangshan with one big difference; the driver was going just as fast and weaving in and out, and the liberal use of the horn, but on two-lane country roads, not multi-lane, restricted access toll roads. We were again on the edge of the seat as we passed trucks, scooters, busses, cars and bicycles, sometimes on curves and sometimes before the crest of a hill. We were lucky. We figured that the driver used the old highway to save the tolls charged on the main road. We came into Yantai on the opposite side of town from the airport and had to weave out way through traffic to get to the airport. I was a little nervous wondering if we would get to the airport on time.

With about 15 minutes to spare we arrived for check-in and boarding and off to Changchun, including an intermediate stop at Dalian, one of China's busiest seaport cities, to leave off and take on passengers. Passengers for Yantai were seated in the front of the cabin. Passengers getting on in Dalian were seated in the rear.

We arrived in Changchun two hours later and were met at the airport by the driver sent from the steel mill. But first to find the main office of the Bank of China to cash traveler's checks. Despite heavy city traffic, drivers were civilized … not horns, no cutting in and out. Orderly. Branch offices can do currency exchange, but not traveler's checks. Special permission was granted to "the foreigner;" the exchange window was technically "closed" due to worker's holiday. Money in hand, we settled back for the 5 hour ride to Tonghua, a major industrial town about 60 km north of the border with North Korea. Tonghua is in a very remote area of China. The dominate feature of the landscape along the way were the huge farms for growing corn. As far as the eye could see, corn fields. The most amazing fact about farming; it is all done without the use of large tractors; it's all done by hand and animal-power, horses, mules, oxen for pulling plows. We did see a few small, one-plow tractors, perhaps a 5 or 10 horse-power engine, certainly not the huge, John Deere several-hundred-horsepower variety seen on large farms in the US. Rows for planting were neat and straight. No GPS for guidance; just experience passed down from one generation to the next. Everyone pitches in during planting season, old and young, male and female. There's a job to be done; it's a community effort. The same families have lived on and farmed the land, as Ms. Sun stated, "For generations."

About 2-1/2 hours into the drive, we stopped for lunch at a typical roadside restaurant, the Shun Zhe Mei Shi. Children stand at the edge of the road, cars zooming by, waving their arms and hands, trying to entice you to stop at their place, and not continue to the next. Included in the large bowl of boiled chicken soup were long, amber, rubber-like noodles. Rounding out the meal was a large plate of boiled Chinese green cabbage. Warm soybean milk was served from a small metal teapot, poured into ceramic cups. No kidding about the noodles, they were like rubber, hard to chew and harder to swallow. I concentrated on the chicken soup, cabbage and soybean milk.

As we resumed the journey and drove farther into rural China, Ms. Sun continued that new houses are built when the young adults marry; they stay in the same community.

We pulled into Tonghua late in the afternoon. It was good to get out of the car and stretch our legs. Foreigners hardly ever visit this remote area of China. Very few people speak English, including the hotel staff. It's a big industrial area because the raw materials for making steel, coal, iron ore and limestone, are mined locally. Make the steel and haul the finished product, not haul the raw materials and make the steel elsewhere.

Tong Gang Bing Wa (hotel) must have the absolutely hardest beds in the world. It was like sleeping on cement. Harder than hard. Sleeping on a pile of extra blankets helped make the nights more bearable. Dial-up Internet connection meant many long hours to check email and send reports. And again, like hotels in remote areas, they did not accept credit cards or traveler's checks, just cash. There went the cash I obtained earlier in Changchun. Broke again!

For dinner that evening, we were guests of two Tonghua Steel representatives who had been to training classes in Pittsburgh last September. A typical Chinese restaurant with a big round table and a lasy-susan in the middle. Meat, fish, vegetables, and fruit, and of course Bing Beju. Cold beer: Tsingtao brand, thank you.

Tonghua is Bricmont's newest project in China. The steel mill is adding production capacity. We visited the mill the next morning to take pictures and meet other steel mill personnel.

On the way back to the hotel for lunch, horrible sanitary issues – or lacks thereof – were revealed.

Another typical Chinese lunch finished, it was time to again find the main office of the Bank of China. On the way, we saw old military tunnels that had been carved into the hills during previous military conflicts. Older residents harbor bitter memories of Japanese occupation during WWII. Those tunnels are now used for storage. At the bank, they too would not cash traveler's checks, and I could not get cash from the ATM. I was up the creek for cash. Had I known a PIN number, the story would have been different. I do not recall having such difficulty cashing traveler's checks or using credit cards last year. Perhaps the difference this year was visiting different cities in more remote locations this year. Anyway, I learned a lesson, carry cash for exchange, not traveler's checks. The hotels and banks will always exchange dollars to the local currency. After returning to the hotel; I went for a short walk. Just around the corner from the hotel, three young boys waved and called, "Hello, where you from?" I answered, "United States." "OK," they replied. A few minutes later, I came across a group of senior citizens playing croquet. I watched for a while, smiled and waved. They waved and smiled in return. Just before reaching the hotel, I watched two gentlemen painting the side of a building. They were sitting on small boards attached to ropes secured at the top of the building. Each was holding a long pole with paint roller on the opposite end and had a large bucket of paint dangling from the contraption. They used their feet to push themselves back and forth across the front of the brick building. As they were swinging, they slopped diluted white paint on the buff brick. Perhaps it was a primer coat. Give them the benefit of a doubt.

We selected to walk up the street to a boiling pot restaurant for dinner. Meat, shrimp, and veggies were all cooked at the table in a large pot of water placed over a gas flame. Bring the water to a slow boil before cooking. Dip your food in one of numerous sauces in little dishes and enjoy. Using chop sticks, what else. And of course an ample supply of Bing Beju to wash it all down.

During the walk back to the hotel we past many street vendors and lots of curious eyes. There were a few "Hellos." Bright, multi-colored lights lined the street.

One more night on the hardest of hard beds. The smell of the mill invaded the room; another reminder of cleanup to be done, even in the very remote city of Tunghua.

We were on our way the next morning, but not before friends from the mill came to wish us well. Shenyang was only a 3-1/2 hour drive compared to 5 hours to Changchun. And there were more flights from Shenyang to Shanghai. Made sense to Ms. Sun and I. The driver's wife joined him for the day-long round-trip journey. Gently rolling hills. Farm land being worked by hand; manual labor is a way of life. Saw a goat hanging by its neck; the owner brought it to the market on the main street of town. It was slaughtered and butchered as it hung. All that remained dangling as we passed by were the head, back bone and four legs. The rest had been cut away and sold. Just the facts, folks. Not even enough time to get the camera out for a picture. Highway construction. A tunnel being built through mountains. I pointed to a cemetery on a hillside. Ms. Sun noted that the dead are no longer buried in China, but "burned." Land is a premium, especially in cities, and can no longer be used for cemeteries. Ashes, too, can not be buried. Upon reaching the outskirts of Fushun, we were on a multi-lane highway with only a short distance remaining to the airport.

Our mid-afternoon flight arrived in Shanghai just after dark. Ms. Sun rode in the same cab to be sure I wouldn't get taken for another ride. Cab fare to the Supreme Tower Hotel was 116 RMB, $14.01, compared to 600 RMB, $72.48, when I arrived in Shanghai on April 20th. She then continued home for a home-cooked meal prepared by Mom. I settled into room 2311 with a comfy, queen bed, good Internet service and pleasant view looking south over the buildings of the PuDong district of Shanghai but a very impractical bathroom sink.

Down the street from the hotel was a Kodak picture place. In my best Chinese, liberal use of sign language, and lots of smiles, arrangements were made to process two rolls of 35mm film, one print each and two CDs of the process pictures. Payment in advance, please. I could handle that; I received a small cash loan from a coworker prior to leaving Tonghua. Thank you, Bill. I owe you. I again tried to cash traveler's checks. Not possible at the Supreme Tower so I walked down the street to the Courtyard by Marriott. I thought I was OK until they asked for my room number. Upon advising them that I was at another hotel, they said "Sorry." Here's the May 5th email I sent after receiving exceptional help from Leo:

"Courtyard by Marriott, Shanghai, China

Dear General Manager;
I wish to express my deepest appreciation for the assistance your employee, Lou Cheng Zhou "Leo" gave me late Thursday afternoon, May 5, 2005. I needed to cash travelers checks. Your front-desk staff could not do this because I was not a guest in your hotel. With only minutes until closing time at the bank, Mr. Lou said, "I will take you there," and personally escorted me to the Bank of China office several blocks from your property where I did the banking without any problems. He gave service above and beyond his responsibilities at the Marriott; but thinking about it, service must be the motto for your hotel employees. I very deeply appreciate his help. I will remember this and tell my Shanghai business contacts about my experience.
Thank you again, Leo, for your help.
Gordon Snyder
Pittsburgh, PA"

For dinner Thursday night I walked several blocks to the Intercontinental Hotel. They offered a fabulous buffet. The story wasn't the buffet; it was the walk to and return back to the Supreme Tower. All along the way, ladies came up to me asking, "Hello, massagie, massagie?" I kept walking at a brisk pace, answering "Leave me alone, no, and good by!" This drew a laugh several times. I reached the sanctuary of the both hotels where guards prevent ladies of the evening from entering the property. I wanted to get a picture of those beauties but didn't have my camera.

I was on my own for the weekend and visited my niece in Hong Kong. Narrow winding streets, tall gleaming office towers and condos, little red taxies, double-decker busses, boats, Footsie, Gaelic football … stay tuned. "PuDong ji chang guo nei dai da" coming next.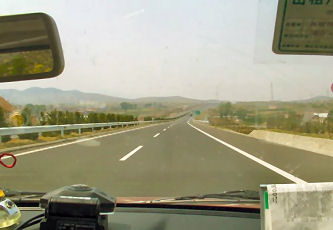 Yantai, China is famous for apples. Trees in the orchards were filled with white and pink blossoms.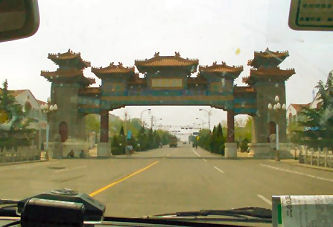 We entered Longkou passing through the "ancient" city gate.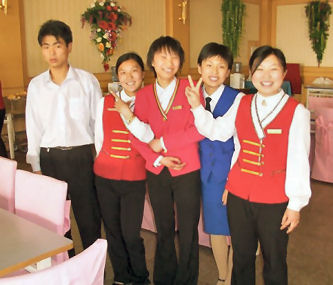 The assignment for the girl in the blue uniform was to help
foreigners. She said I was "handsome," and laughed a lot.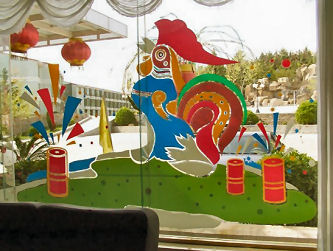 A rooster and exploding fireworks were painted on the window next to the main entrace to the Nanshan Hotel.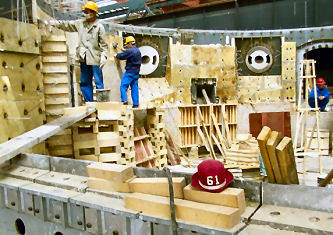 That hat is everywhere!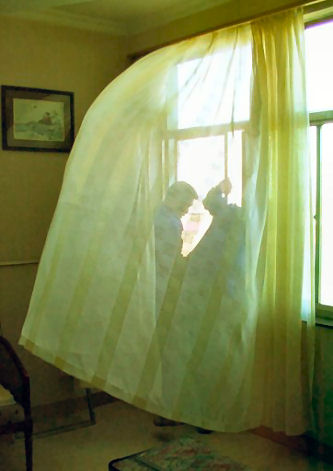 Hotel workers fix the window screen on a windy afternoon.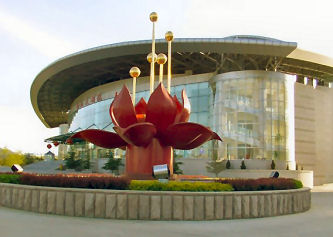 The water Lilly is religious symbol for purity, cleanliness and peace.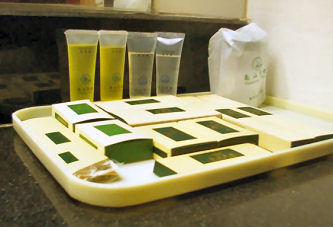 Hotels in China provide a full line of amenities for convenience of the guests. The vanity tray included shampoo, foam bath, a comb, soap, tooth brush, vanity pack (sewing kit,) shower pack and razor.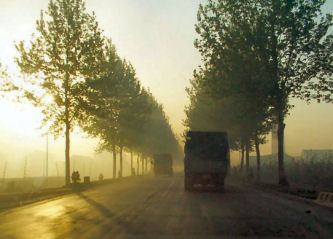 Early morning drive back to Yantai airport through fog and haze.


Dalian is a major seaport in northern China.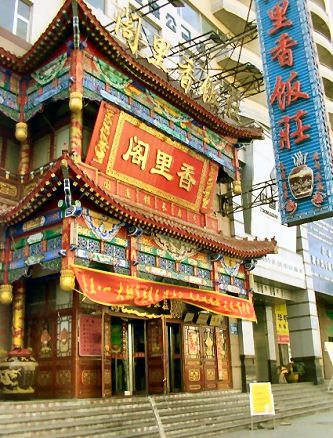 The Wau Li Xiang restaurant was across the street from the Bank of China.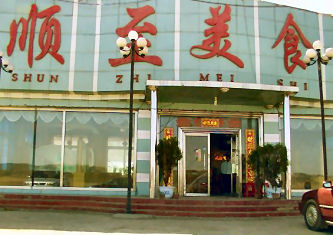 we stopped for lunch at a typical roadside restaurant, the Shun Zhe Mei Shi. Children stand at the edge of the road, cars zooming by, waving their arms and hands, trying to entice you to stop at their place, and not continue to the next.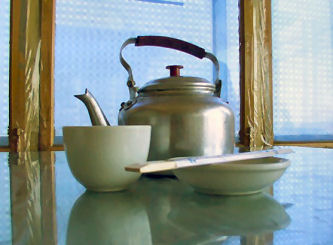 Warm soybean milk was served from a small metal teapot, poured into ceramic cups.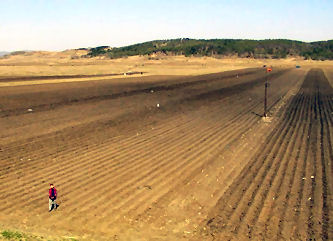 The dominate feature of the landscape along the way were the huge farms for growing corn. As far as the eye could see, corn fields. Farming is all done without the use of large tractors; it's all done by hand and animal-power, horses, mules, oxen for pulling plows and perhaps an occasional small tractor.