The Truck and Car Kissed

Be wary of people wanting to help you when you first arrive in a foreign country. All some may want is to get their grubby hands into you wallet. Well, it happened to me big time to me when I arrived in Shanghai from Seoul. When seeking help to get to the Supreme Tower Hotel from the "hotel desk" near the baggage claim, a friendly man with an "official-looking badge" offered assistance. "No (shuttle) buses go to that area. You must take a private car." "You mean there is no other way?" I questioned. "No," he stated emphatically, "just a private car." Not knowing any different, I agreed for a fee of 600 RMB (approx. $73.) Well, I soon realized that the hotel was only a few blocks from the hotel where I had stayed last year and the regular taxi fee was about 120 RMB (about $25.) Boy was I taken for a ride. I showed the receipt to the hotel clerk; no car license number, no driver I.D. number, no nothing. Just the hollow feeling of being taken for $50.

To top if off, the bed in my 26th-floor room high above the noise of the streets below was short and the room cramped. The hotel provided a step-down transformer, 240 volt to 120 volt, so I could use the lap-top. Internet service by Ethernet was excellent. I was in a sour mood; no dinner, just email and too bed. My guide while in China called to confirm my safe arrival. The next morning I was to take a taxi to the "HongQuao ji chang" (Shanghai's airport for domestic flights.) We were to meet at about 7:00 AM for the 8:30 AM flight. I was there at 6:30 AM and waited patiently near the Shanghai Airlines ticket counter. After a while, a young lady with a bright smile approached, "Are you Gordon," she asked? "Yes I am," was my reply. My guide and I met for the first time. Ms. Maria Sun is a sales correspondent for our Chinese sister company, based in Shanghai. She has been responsible for my well-being for the past several weeks.

Our first stop would be at LY Steel in Loudi, a 1-1/2 hour plane ride to Changsha southwest of Shanghai and a 2-hour cab ride west. This would be my 2nd visit to LY Steel, visiting there in February 2004. My room on the 8th floor of the Qing Quan Fan Dian (hotel) overlooked the ever-dusty, bustling streets. The purpose of the visit was to obtain an update on operations and learn the requirements for continuing business.

Loudi is a remote city forging into the 21st Century. However, dust and heavy industrial haze are constant reminders of cleanup yet to be done. I'm sure that the Government and concerned citizens are working on this very difficult problem. It calls for great changes. Unfinished building projects dot the landscape. Taxies, buses, scooters, bicycles and pedestrians all vie for space along both large and small boulevards. Horns and whistles blare late into the evening hours. Street vendors abound. At night, ladies gather outside the hotel asking if you want your shoes shined. Not my sneakers, thank you. Next to the hotel a KFC – had dinner there one night. And next to KFC, a three-story super market.

Hotels in China offer breakfast buffets for overnight guests. While not elegant, the Qing Quan's was more traditional Chinese than Western. When you enter the dining room you must present your breakfast ticket to the hostess. The selection included soups, fish, meats, vegetables, cakes filled with sweets, hard boiled eggs, fruits, bread, pastries, and for the die-hards, fresh eggs (only on certain days) cooked any way you wanted. Coffee is typically doctored with cream and sugar. Making black coffee takes a little time to prepare. But it's piping hot when it's set on the table. You can choose to use knife and fork or chop sticks. There's a nice view out the window of the 2nd floor dining room; sit next to the window and watch the people outside. The waiters and waitresses are always very cheerful. Paid-for meals are served throughout the day and into the evening hours in the same dining room or in a typical Chinese restaurant on the 1st floor..

The steel mill provided a company car to bring us to the mill in the mornings and return us to the hotel in the afternoon. Again, a skillful driver was needed to weave into, around and sometime straight through traffic. The driver's luck ran out the second morning. While stopped and waiting for traffic to clear an intersection, a huge dump truck decided to back up. We were sitting ducks. Our driver couldn't back up because of cars behind us. He laid on the horn. Eventually the truck came to a stop when the driver realized that something was behind him; he couldn't back up any further. Our driver jumped out and started yelling at the truck driver. I can just imagine what he said. A large crowd gathered. Our driver repeated the story over and over to every one. According to Ms. Sun the literal translation of the Chinese description of the accident was "The truck and car kissed." A company representative was on the scene within minutes. She and I remained in the car until another came to take us into the plant. Of course I took a picture of the truck and car kissing.

The weather in China is very similar to the US. Temperatures this time of year range in the 50s to 70s. So far, mostly clear sky, what you can see of it through the constant haze. There was a 15-minute shower one evening in Loudi and a ½-hour downpour a few days later in Shenyang. (More on that later.)

Our business was finished. A 2-hour cab ride back to Changsha Airport passed quickly as Ms. Sun and I reviewed two days of meetings and she tried to teach me Chinese. However, we had a 5-hour wait at the airport for the 2-hour flight to Shenyang.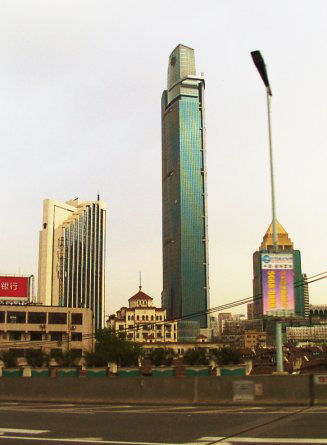 modern skyscrapers are found in all areas of Shanghai.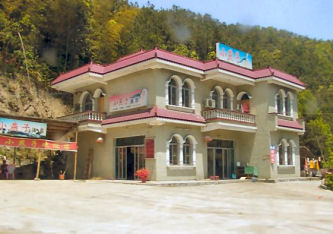 A typical restaurant along the route to Loudi. Meals are available at very reasonable prices.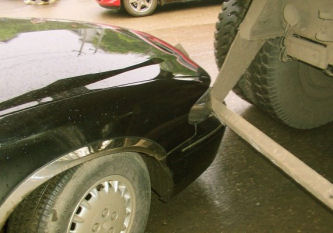 A large group of people gathered to see the car and truck that kissed ... ouch!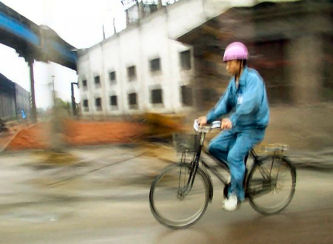 workers come to the plant by bike, car, scooter, bus and walk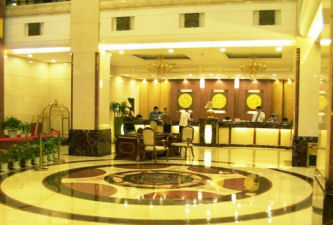 lobby of the Qing Quan Fan Dian (hotel,) Loudi, China. They don't take credit card or travelers check. Have cash handy.